Ordered the Asus EEE 4gb Webcam PC about a month ago but due to serious stock shortages it only arrived today. First impressions, very impressed. Here's the obligatory unpacking photos:
Comes with a nifty little case so you can fuck it in your suitcase when you're off travelling. And a charger, manual and support CD or something for your proper laptop which are not needed. It's idiot proof to set up. Just enter time/date and admin password and it boots. Four tabs when it boots, Internet, Work, Play and Settings. Internet has Firefox, wireless and LAN setup, messenger and Skype. Work has open office word, spreadsheet, presentation software which all load in around 6 seconds. Also has Adobe Reader.
And the most useful app for me, is the console/shell access which you get from File Manager in the Tools menu. Allows me to SSH into my servers. Perfect. I had installed symbian Putty on my Nokia E61 but it didn't work out. There's just too many keys missing from a mobile – like Tab for completing Linux filenames. Simple things but without them drive you crazy. The EEE has a small but full keyboard so I can see myself using this at airports to get some coding done. Keyboards small so if you have stubby fingers like me, expect a lot of mistakes. Here's Open Office Word or whatever you call it: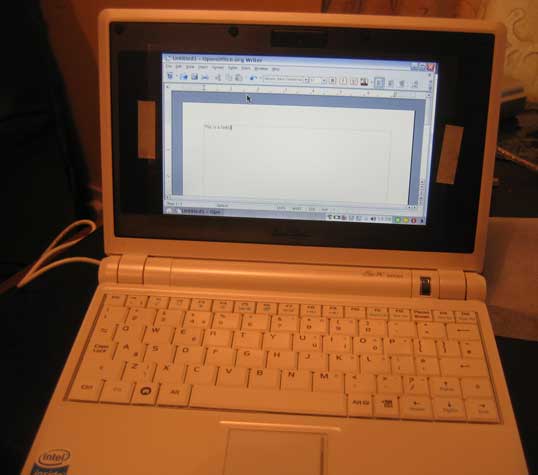 Sound from the speakers is louder than you would think from such a small yoke and crisp as well. Same with sound from earphones. Comes with 3 usb ports, some kind of a card reader, Ethernet port (nice surprise) and a VGA output. No CD or DVD drive of course. I ordered the optional webcam which is great quality. Here's a shot of a youtube video on Firefox. As you can see, the video takes up all of the screen space: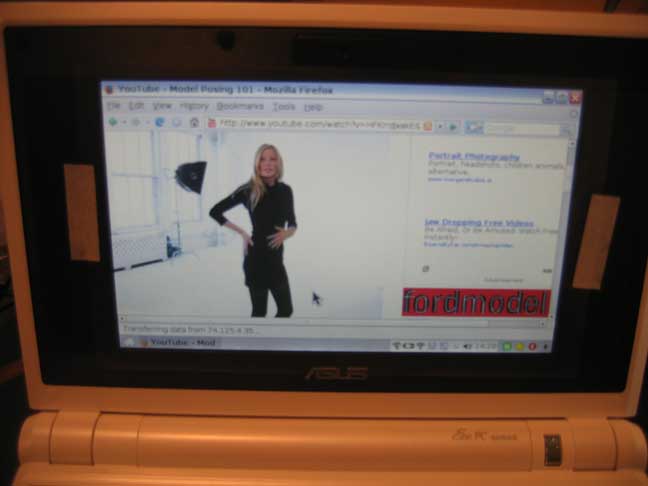 This is one of the coolest little toys I've bought in a long time. It cost me 300 snots with delivery and everything from PC World Business. Can't go wrong at that price, compare it to the Macbook Air which starts at €1700. Get the Asus EEE as your 'cloud' computer.